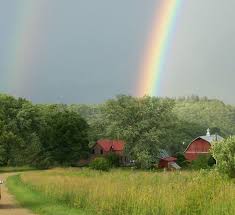 As I went through my closet today, culling dresses with yellow sequins and stiff crinoline slips and stacking them on a pile for Goodwill, I thought of that quote by the hippie transcendentalist Henry David Thoreau, "Beware of all enterprises that require new clothes."

I figure I must be on the right track if my future endeavor is not requiring me to purchase new clothes; rather, our future hobbit-sized house is requiring me to downsize my wardrobe.
You read that right: in one month, our family of four is moving to a quaint solar-powered farm in the Driftless Region of Wisconsin.

It's all right if you think we're crazy; I think we're pretty crazy, too.
I may gravitate toward the bright patterns of a Gypsy, but in truth I am about as free-spirited as a rock.
I could live in the same house all my life. Eat the same thing for breakfast every morning. Use the same feather pillow every night until it cushions my head as efficiently as a piece of notebook paper.
And yet, my husband and I are at the crucial point in our lives where the decisions we make now are far easier than they will be in the next ten years (i.e.: when our toddler becomes a teenager).
We are both self-employed and therefore can work anywhere we choose.
So why choose to remain in the same place?
This decision may seem spur of the moment, but the process has almost taken two years.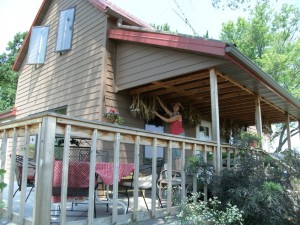 We debated on Montana, Idaho, and Wisconsin.

However, like the fabled bowl of porridge, something was always off.
Montana was too cold. Idaho was too far from our family in Tennessee. Wisconsin wasn't quite as cold as Montana, and it was near my husband's extended family, who I adore like my own.
But we could never find a place to live.
Then, this spring, my husband and I visited a solar-powered farm located five miles from his family. I admit that I wasn't too impressed with the hobbit-sized house until I saw the pink peonies and raw honey on the countertop, the upstairs hardwood floor painted cool aqua, the windows opening up to the English garden hemming in the rolling pasture below.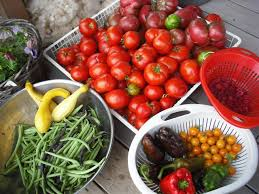 I started falling in love with the land and the dwelling when the owner—so obviously heartbroken to leave her home—and I stood on a crest and ate a handful of tiny strawberries plucked from her garden. As she showed me her patch of rhubarb with its clutches of brilliant garnet stalks. As she showed me the cherry trees hanging heavy with fruit.
There is, no doubt, work to be done. The barn (like something out of a classic movie—rooster weathervane and all) needs painted.
There is only one closet in the entire house (hence downsizing my wardrobe) that, when we saw it, was stuffed full of thick skeins of earth-toned wool.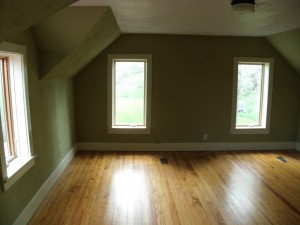 My 6'1'' husband is going to have to squat while taking a shower or else start loving baths (trust me: he is not a bath guy).
The pantry isn't finished but has a great soapstone sink. The floor is uneven because the owners wanted to keep the original hardwood at any cost, and we're not even sure if we're going to be able to fit our bedroom suite up the stairs and so might end up sleeping on a blow up mattress until kingdom come.
And yet, despite it all—all the apprehension regarding leaving our families, trying to get this southern belle acclimated to a new environment right before winter hits, having a newborn and a toddler trapped in a hobbit house while the snow piles up outside—I am excited.
And I am terrified.
But I was equally excited and terrified to get married and to have babies, and these major changes have enriched my life in ways I could have never foreseen.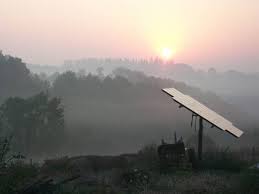 So I pray this journey, living in our little solar-powered house in dairy-farming country, will bring our family closer together while enriching our lives in ways we could have also never foreseen.
If not, well, I may be spending the winter wrapped in flannel and parked under a Vitamin D lamp.


This week only (9/28-10/4) my sophomore novel, The Midwife, is only $2.99 on Kindle and Nook. Click here to follow the link!
"The work of a master storyteller." ~The Christian Manifesto 4 1/2 stars

"Petersheim is an amazing new author." ~RT Reviews 4 1/2 stars

"When I forget where I am and instead think I am in this world that the book brings to life, I know it's a good one!" ~Fiction Addict