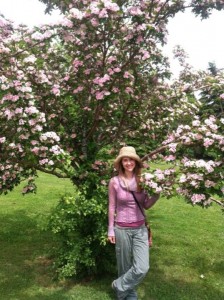 Our third day on Prince Edward Island, when I spilled water in our rental car, my husband mopped it up with a napkin and asked, "Your creative juices overflowing again?"
I'd spent the last few hours, as we drove along the coast, running my next plot synopsis by him at break-neck speed.
Everywhere, it seemed, was a source of inspiration: tired lighthouses with paint-chipped facades, an uncut clover field being grazed by Clydesdales, bouquets of pink and purple lupine bordering jagged, red stone cliffs.
Later, as I walked the deserted beach at Dalvay by the Sea while my husband napped (our compromise for a happy marriage), I mulled over my main character's motivation, who was inspired by a young woman I encountered during our plane ride from Halifax to Charlottetown and was only spending one day on the island. (How could she only spend one day? Why was she alone? Why did she look so solemn as she stared out the window at the rain-streaked clouds?)
Her motivation hit me like a piano from the sky, and I cried out with joy. Lest you think I am always slightly eccentric (okay, I am always slightly eccentric), you should also know that it was unbelievably refreshing to feel my synapses firing as the pieces of this unique plot structure slid into place.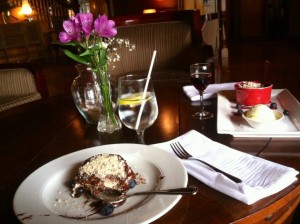 We returned to the beautiful Inn at Dalvay by the Sea for dessert (my cargo pants wet from ocean water and my sandals trailing granules of sand throughout the lobby). My quiet husband, bless him, again listened while I babbled my way through the story and developed the plot hook.
Back in the rental car, I kicked my shoes off and grabbed a pad and pencil I'd swiped from our inn and began jotting down notes. During our flight from Charlottetown to Toronto, I powered on my laptop and turned these notes into a synopsis, so I wouldn't forget the story once I returned to the real world, where my creative juices are oftentimes negated by everyday life.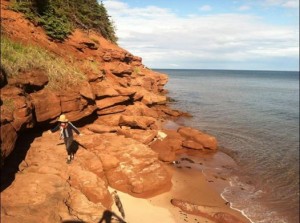 We are experiencing everyday life right this moment, as our minivan's silver nose points North. I have just returned to the passenger side after feeding our youngest puffies and our oldest lentil chips.
While I was back there, trying to keep our girls happy, my husband looked at me in the rearview mirror. "How's your creative juice flowing now?"
I rolled my eyes but smiled as I popped another puffy into our nine-month-old's mouth. "Pretty dried up."
"But then they'll grow up, and it'll flow again." He paused. "Not only that: then they'll be your friends."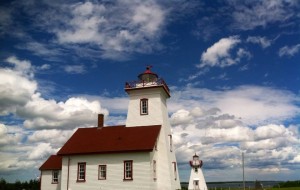 And that was the truth of it: I might not have hours and hours to myself, walking beaches and constructing plot points as my synapses fire as if from a tommy gun.
Instead, I spend these hours pouring my creative energy into two little people, who are oblivious to the fact that I might not want to read a book about a mischievous monkey and a man in a yellow suit.
However, these little people are also making me a better writer and a better human being.
It might be a few years until I am able to apply what I have learned to the page, but it will be worth the sacrifice when I reach the end . . . of both my life and my story.
How do you keep your creative juices flowing during everyday life?