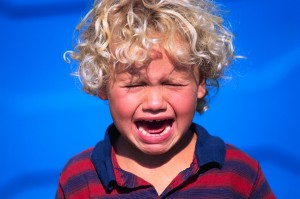 He was a painter with a lazy smile; she was a weaver who wore sweaters that would shrink to child-sized if caught out in the rain. They came into our grocery store at random times of day to buy our almond butter and flaxseed oil, so that my husband and I wondered if they ever worked at all.
They had a son between them, named Sebastian, who was the kind of creative prodigy you might expect from a union such as theirs. But Sebastian, honestly, was also a bit of a brat.
He would scream and thrash in the cart, which Painter-dad had sanitized before threading Sebastian's stocky legs between the rungs. Sebastian would leave Hansel and Gretel trails of whatever organic snack he was consuming while Mom shopped for tahini and vanilla bean paste.
Despite the verbal abuse they received—and sometimes I received if I was stocking that aisle—Mom and Dad made sure to never raise their voices at Sebastian but to always utter very loud excuses to cover for him:
He was tired. He was thirsty. His stars were not aligned. His playdate for highly intelligent children had not gone so well that morning.
Around six or so months later, Sebastian's mom and dad started to unravel.
Painter-dad's lazy smile grew tight. Silver started threading his surfer-dude hair. Weaver-mom started buying pounds of humdrum, no-fair-trade coffee, which she'd surreptitiously slide across the counter like she was purchasing drugs.
Then, one day, Sebastian wanted something with hydrogenated oil and MSG. Painter-dad said no. Sebastian said yes.
With enthusiasm.
Painter-dad grabbed the desired foot-long beef jerky strip and struck his son's backside. Over and over again. Sebastian screamed like he was being beaten with a two by four.
Perhaps seeing our agape mouths, Painter-dad straightened and calmly returned the beef jerky strip to the display across from the check-out line.
After they left, my husband and I darted into the warehouse and laughed ourselves sick.
Well, guess who has an almost three-year-old and is not laughing now . . .
The other day I was feeling particularly adventurous (thanks to the almond butter on my sprouted wheat toast and fair trade coffee), so I decided to give my toddler a bath the same day I bathed her baby sister.
The bath itself went fine: I scrubbed behind her ears and got her head titled just right so the tearless Jason shampoo wouldn't run into her eyes.
And then I tried to get her dressed. She, of course, thrashed as I fed her arms and legs through the necessary holes. I brushed her teeth by counting to ten through my gritted ones, and then I tried to brush her hair.
Have mercy. My darling toddler made Sebastian of the beef-jerky-fame look as docile as Tiny Tim.
She screamed as I tried combing through her curls without nicking her ears. She cavorted in my arms and threw herself down on the (thankfully carpeted) floor. The noise awoke my napping infant, so she added to the increasing hullabaloo.
My blood pressure sky-rocketed; my palms grew slick. I grabbed my toddler and bracketed her hips with my knee caps as I hauled the brush through her hair. She banshee-shrieked and twisted out of my hold.
I took that brush and smacked her behind. Hard.
My heart and mouth dropped. And though my toddler and infant continued crying, it was as if I couldn't hear them. Instead, I could see myself—years ago—laughing at that painter-dad who'd spanked his toddler with a beef jerky stick.
I was not above him. If anything, I was worse. I had sworn to myself that I would never, ever strike a child out of anger. For the first two (almost three) years of my daughter's life, I had lived up to that promise. And then I'd struck her. And, boy, I'd been angry!
All I'd wanted was to brush her hair. To make her presentable and then take her downstairs and feed her organic food and then take her out for a playdate so she could be the most socially adapted child on the . . . dairy farm.
Instead, I'd snapped. Just like Sebastian's parents, I'd placed too high expectations on myself and on my firstborn—demanding that I be this perfect Mom and she be this perfect child, when it should have been perfectly acceptable if she wanted to walk around all day with unbrushed hair.
I am not saying it was all right for my toddler to throw a temper tantrum; I am saying it was not all right for me to join her.
I should have remained the adult regardless of her childish behavior—guarding my tongue and my temper, brushing her hair, and then closing the door between us until she and I had calmed down.
So, the next time my toddler breaks out a Sebastian tantrum, I'm going to attempt to remain the adult. And then—her bedroom door closed—I'm going to sprint downstairs for a strong cup of humdrum, no-fair-trade coffee.
Parents, what advice do you have for us with toddlers?