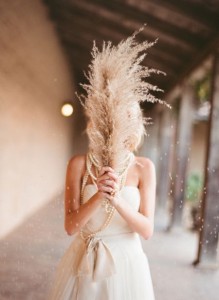 Years ago, when my husband and I were dating, we went to a reenactment at Land Between the Lakes. It was a warm fall day, and I remember how the sun kindled in my boyfriend's day-old beard, setting the short auburn and brown hairs aflame. His hand swallowed mine as we explored the immaculate log and chink buildings, each befitted with the tools – looms, butter-churns, scythes, and plows – that had helped the pioneers of that untamed land remain alive.
Later, we sat in the grass. I leaned against my boyfriend's legs and he put his arm around my shoulders as two of the actors performed in the wedding: the apex of the day's events. I knew as the clergyman pronounced them husband and wife (as I had really known for longer than I would care to admit) that my then boyfriend and I would one day wed.
We have now been married four and a half years. A few minutes ago, my husband sipped coffee and I stared out through the window at the field as we discussed how we can attain the simple life—something we both feel is necessary and that is being lost by our generation and the generation rising up behind us.
Looking into my husband's hazel eyes, I recalled the taste of the slightly stale sheet cake we ate the day of that reenacted pioneer wedding, which was odd—history purveying a glimpse on the future that was yet to come.
I recalled the sweet tang of the blood-red punch we drank to wash the cake – crumbling on paper napkins – down. I recalled the cream froth of the bridal train sweeping the autumnal leaves; I recalled running my fingertips down the rough-hewn logs of the buildings, and the glint of hay as it twirled slowly from the mow.
Something stirred within me that day six years ago. Not just the "this is it" moment my boyfriend and I experienced while watching the wedding, but the simplistic lure of that pioneer lifestyle. Both of us are only two generations removed from the horse and buggies, kapps and cape dresses that our Plain grandparents wore in Lancaster, Pennsylvania.
Many people say that that lifestyle is full of legalism, and in some aspects, I would have to agree. But I also feel like our ancestors were able to attain a way of living many in our hectic, world-at-the-press-of-a-key generation crave.
So, my husband and I are contemplating how to get it back; how to get back to that simplistic living but also keep it exempt of legalism.
We are taking small steps in that direction. I am not sure where they will all lead, but I know that I am excited to walk hand in hand along the journey with him.
Here are a few ways I am trying to live simply and "remain present in the present" (my goal for the 2013 year):
Unplug from the Internet after ten a.m. when my daughter takes a nap. No Internet on weekends (except for Sunday night blogging/social media catch-up).
No TV (we actually don't have a TV, so this means no DVDs on my laptop) unless in a group or using it while working out.
Read two books a month.
Read the Word until I absorb something beneficial for my day.
Plant a garden in the spring (even if just a few items).
Learn to sew and can (gah!).
Get chickens (and keep said chickens alive with a guard dog).
Remain in constant communion with those I love.
Write more letters.
What are some ways you are trying to live simply as well?