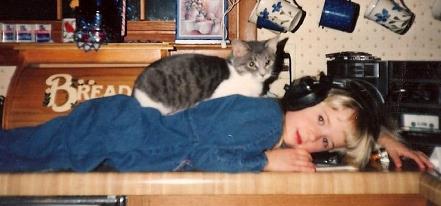 We didn't have a TV for the majority of my childhood. So before I was old enough to read, my cat and I spent a lot of time stretched across the kitchen countertop, watching my mother make supper and listening to audiobooks.
Twenty-three years later, my husband and I have also chosen not to have a TV.  We sometimes watch movies on my laptop or download a show that takes about ten years to complete because our Internet is created through our darling one-year-old running her walker back and forth across the floor (kidding).
But we really do not miss TV.
Okay, I'll be honest . . . sometimes I miss TV. And whenever we're somewhere with cable (a restaurant, a hotel, even the hospital), I am like a two-year-old: my eyes glued to the television screen, unable to hold coherent conversations as I am completely distracted by whatever drama or comedy is about to unfold.
So I get my story "fix" through audiobooks, just as I had when I was a child.
Because of this, on Tuesday, when I learned that The Outcast is becoming an audiobook through Oasis audio, my excitement made it seem that I had just signed a movie deal with Warner Brothers.
I could fold laundry or cook supper and listen to my own story, how cool is that?
The reader Tavia Gilbert and I exchanged emails, and I felt that I had found a perfect match for my characters: Tavia is fun-loving and sincere and uses as many exclamation points as I do!
The only problem is that Tavia does not have a Plain background, and The Outcast has eighty-seven Pennsylvania Dutch words, only a few of which I can pronounce.
So I talked to my mother-in-law, and she – whose father was kicked out of the Amish church when he was seventeen – offered to help us with the dialect. To make sure that we got everything right, my mother-in-law  also contacted her aunt (who was also formerly Amish) to double-check the pronunciation list.
This afternoon, we did a three-way call, and my mother-in-law used Pennsylvania Dutch dialect to comment on the weather, which caused all of us to crack up. Then she explained that w's are changed to v's: like Vednesday, vater, velcome. And that sometimes three syllable words will be combined to two syllable words: fam-i-ly becomes fom-ly.
Because Tavia's been conducting her own research, it did not take us long to do our "work." We then chatted about The Outcast and our vision for it. I loved hearing the excitement in Tavia's voice and to know that she will be in her studio this week, using that excitement to conjure forth my characters.
What a dream come true!
Do you listen to audiobooks? If so, do you have a favorite?
Here are a few words from The Outcast's pronunciation list; now you can see why we had some trouble!
esse
familye
fastnachts
ferhoodled
fleesch
Fraa
freindschaft
gemaeschde grummbeere
goot
gosskinner
Gott ist die Liebe, läßt mich   erlösen; Gott ist die Liebe, er liebt auch mich
grosskind
grossmammi
haus
hinkel
hunlomma
hutsch
ich liebe dich
kapp